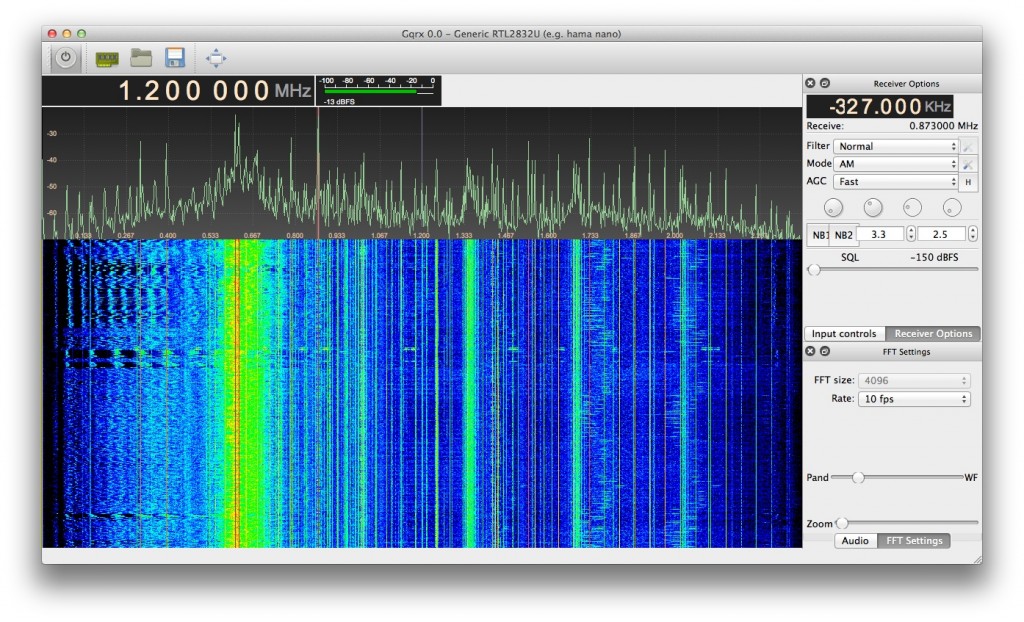 A while ago I already managed to compile gqrx on OS X, but then Alexandru Csete decided to move on to a new audio backend called pulseaudio. Sadly there is no proper pulseaudio port for OS X. Thus I bring you my branch of gqrx 2.1 which runs quite well on OS X.
This release bundles all the rtl-sdr, gr-osmosdr, GNU Radio, libUSB, boost and Qt dependencies allowing it to work out of the box. Though feel free to contact me in case you encounter problems. It has been reported to run fine on Snow Leopard (10.6), OS X Lion (10.7), OS X Mountain Lion (10.8) and OS X Mavericks (10.9). Sadly Leopard (10.5) isn't supported due to Apple breaking binary compatibility on 64bit binaries for some reason.
Download the ready to use DMG/APP here:
gqrx_8.dmg – (07/01/2013) Latest GIT. Some people are reporting FFT issues with this build, in case you encounter those try the one below and leave a comment. (shasum: 66b9f6952aff5cb0bc995556c633b3cc7f5d990e)
Old versions:
gqrx_7.dmg – (02/03/2013) Up to date with GIT. I've added a deadlock prevention feature in case your settings keep gqrx from starting up properly. After a crash/forced-close it asks you whether you want to reset all your settings to default. This should help you guys with invalid rtl_tcp settings and the like. I have also fixed rtl_fm to now properly work on OS X (It used to only output noise), as well as multimonNG which now supports umlauts for POCSAG decoding. So check out the bundled command-line utilities! 🙂 (e.g. /Applications/Gqrx.app/Contents/MacOS/rtl_test -t)

gqrx_6.dmg – Latest (01/16/2013) updates from GIT, yet again. This time I also packaged some command-line utilities (multimonNG rtl_adsb rtl_eeprom rtl_fm rtl_sdr rtl_tcp rtl_test) together with Gqrx. rtl_fm seems to be broken on OS X, yet we're still triaging the bug. It would be great if you could try it and report whether it works for you. (http://kmkeen.com/rtl-demod-guide/index.html) I am considering packaging up the whole of gnuradio including the companion GUI if there is demand.
gqrx_5.dmg (Latest updates from GIT, supports adjusting the FFT resolution which should fix the pink curtain problem. The zoom slider has been removed from upstream, yet you can still zoom by using the mouse wheel on the axes.)
gqrx_4.dmg (GNU Radio component has now been compiled with "-DTRY_SHM_VMCIRCBUF=OFF", this should hopefully fix the shared memory problem some of you have encountered. Please report whether it works now.)
gqrx_3.dmg (Rebased to the zoom branch. Credit goes to vpelletier for the awesome patch!)
Pan: left-click on X-axis labels & drag horizontally
Pan (alternative): Mouse wheel on X-axis labels, faster pan with Shift held and slower pan with Ctrl held.
Change central frequency: middle-click on X-axis labels & drag horizontally
Zoom: slider on FFT panel
gqrx_2.dmg (Updated gr-osmosdr and fixed a crash when disabling demod.)
gqrx.dmg
PS:
The screenshot was taken in direct sampling mode, that's why I was able to receive 0-2.4mhz. I'll probably blog about my modded dongle soon.
Software licenses:
Gqrx
Qt
multimonNG
boost
gr-osmosdr
rtl-sdr
GNU Radio
FFTW
PortAudio
libusb